What is a dental implant? A dental implant is a false root, usually made of titanium, that is installed in the jaw to hold a replacement tooth or bridge. These titanium posts are placed in the bone, where they are osseointegrated by the jaw bone (Osseointegration: fusion of the surface with the living bone).
Dental Implants Throughout History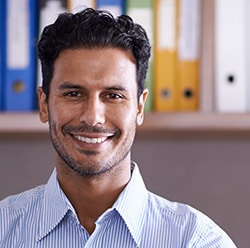 Did you know that the Maya were the first civilization to make use of bone-embedded tooth implants? In 1931, a Maya jaw bone was unearthed at a dig site; this bone was dated to approximately 600 CE. It had three tooth-shaped pieces of shell in place of three missing lower incisors, and for forty years it was believed that these were placed after the death of the bone's owner. In 1970, it was discovered that two of the implants had bone formation around them – the shell pieces were integrated by the jaw bone.
In 1952, a Dr. Leonard Linkow installed his first dental implant and he placed over 19,000 of them over the course of forty years.
What Types of Dental Implant Are There?
There are two main types of dental implant – Root-form endosseous and Subperiosteal.
Root-form endosseous implants are the most common and are installed in the bone so that they integrate with the jaw. Each implant can hold one or more false teeth, and is used as an alternative option for patients that currently have a bridge or a set of removable dentures.
Subperiosteal implants are set on top of the jaw with posts that go through the gum to hold the prosthesis. Patients that have minimal bone height or who can't wear regular dentures are given the option of using this implant.
What Are Dental Implants Used For?
Dental implants are used to replace one tooth or a set of teeth without having impact on surrounding teeth – they do not require other teeth to be present in order to exist. They can provide support for a denture to help make it more comfortable and to better secure it, or they can support a bridge so that the patient does not need to get a removable partial denture.
Why Are Dental Implants Desirable?
As mentioned above, modern dental implants are far beyond the shell pieces the Maya used; they look and feel natural, they don't require the alteration of neighboring teeth to support them and they have a very high success rate. Since the implant becomes part of the jaw, the patient does not have to worry about bone loss or gum recession – things that denture users and those who have had bridgework do have to consider.
The Ideal Dental Implant Candidate…
… will be healthy, in general, with good oral health. The patient will need to have enough bone in their jaw to be able to support the implant, and their gums must be disease-free. These implants rely heavily on the gums and jawbone, so the health of those areas is very important.