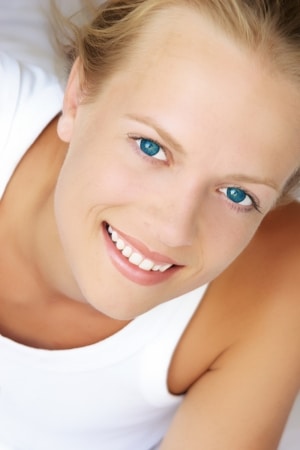 If you would like to improve the appearance of your smile, you may want to consider porcelain veneers. Porcelain veneers are one of the most versatile cosmetic dentistry restorations, allowing you to correct a wide range of aesthetic imperfections. For this reason, Dr. Adam Moore often recommends porcelain veneers as part of a smile makeover.
While porcelain veneers can help you address many of your cosmetic goals, they aren't right for everyone. The best way to find out if porcelain veneers are the ideal procedure to help you achieve a beautiful, radiant smile is to speak with Dr. Moore in person. Please call (919) 772-1811 today to schedule a consultation at our Garner cosmetic dentistry office.
What are Porcelain Veneers?
Porcelain Veneers are wafer-thin shells of dental porcelain which get bonded to the front of your teeth to improve their appearance. We will color and shade match your veneers to your adjacent teeth, ensuring they blend in seamlessly with your smile.
They can improve the appearance of:
Gapped teeth
Worn-down teeth
Discolored teeth
Chipped or cracked teeth
Irregularly sized or shaped teeth
Crooked teeth
Benefits of Porcelain Veneers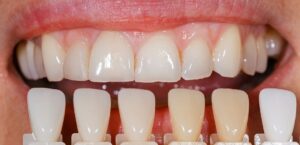 Natural Results – Dental porcelain mimics the translucent property of natural teeth.
Durability – Veneers can hold up through years of chewing and biting.
Convenience – Veneers correct several cosmetic imperfections with one convenient procedure and are easy to care for.
Your Customized Porcelain Veneers Procedure
Dr. Moore works with DaVinci Dental Studios, one of the finest dental labs in the country. He uses the highest quality materials, including IPS e.max veneers, in order to provide you with a durable restoration that delivers excellent aesthetics. Depending on your unique cosmetic goals, Dr. Moore may recommend either standard or no-prep veneers.
Throughout his career, Dr. Moore has undergone extensive continuing education training in the field of cosmetic dentistry. He has extensive experience performing porcelain veneers procedures, and he will work with you to create a customized treatment plan that achieves the dazzling, beautiful smile you desire.
To find out if porcelain veneers are right for you, please contact Moore Family Dentistry today to schedule a consultation.