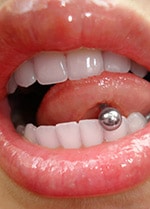 Oral piercings might make a fashion statement, but the damage they do to teeth and gums is not really worth the risk. In a recent study it was found that 47% of people who have worn lip or tongue rings for a period of four or more years have seriously damaged their teeth. Chipped, cracked, and broken teeth were at the top of the list for this group, but enamel erosion and premature wear were common as well. As with a majority of the dental community, Garner cosmetic dentist Dr. Adam Moore suggests our patients find forms of self-expression and adornment that are less dangerous to the long-term health and beauty of the smile.
If you have damaged your teeth with oral piercings, please call (919) 772-1811 for information on dental services that can be used to restore strength and beauty to your smile.
Oral piercings are linked to a higher risk of tooth trauma and gum disease. They are also linked to an increased risk for contracting hepatitis B and C, herpes simplex virus, and bacterial infections. Combined with oral health concerns, perhaps reconsidering oral piercings is the best idea.
To schedule your next appointment at our Garner, North Carolina office, please contact Moore Family Dentistry today. We welcome clients from Cary and surrounding communities.