Natural Looking & Metal Free
We use tooth colored, or composite, fillings to repair teeth that have decay, fractures, cracks, or other issues.
They are better suited for aesthetic purposes on the front teeth as well as other visible areas.
They are very durable and will last many years to give you a long-lasting beautiful smile.
Reasons for composite fillings
Chipped teeth.
Closing space between two teeth.
Cracked or broken teeth.
Decayed teeth.
Worn teeth.
Metal-Free Tooth-Colored Restorations
Cosmetic dentistry is not confined to the front of the mouth! Aesthetic, tooth-colored restorations can also restore posterior teeth to their original appearance and strength. These restorations, made of either composite resin or porcelain, are biocompatible, strong, and much more aesthetic than traditional silver and gold fillings. They are also very conservative, enabling preservation of healthy tooth structure. Dr. Moore is highly experienced in the cosmetic restoration of posterior teeth, including the replacement of old silver and gold fillings. With our help, your teeth can look like they've never been filled!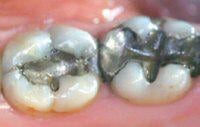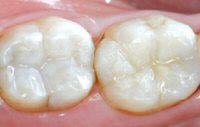 If you need to repair a cavity, please contact Moore Family Dentistry today to schedule an appointment.