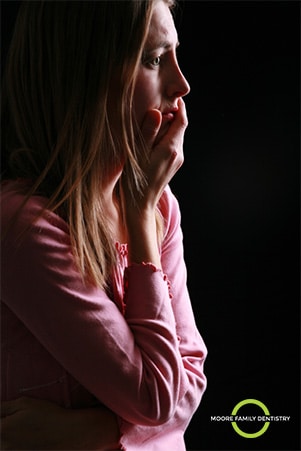 If you struggle with chronic headaches, they may be related to the neuromuscular dentistry issue, TMJ. When jaw pain is present at the same time as a headache – or when this pain occurs intermittently or consistently in between headaches – it is best to call (919) 772-1811 and schedule a neuromuscular evaluation with Garner dentist Dr. Adam Moore. During this visit Dr. Moore will use advanced diagnostic technology to determine if TMJ is the root cause of your headaches and come up with a treatment plan that restores lasting comfort.
The Trigeminal Nerve
The Trigeminal nerve is responsible for nearly all sensation in your face and head. It is also the nerve most impacted by TMJ. When the jaw is out of alignment, pressure is placed on the trigeminal nerve, allowing for pain sensations to be felt in the jaw, the sinus cavity, the ears, behind the eyes, and throughout the head. These symptoms are often confused with standard head pain but, if TMJ is the cause, will not respond in any lasting way to analgesics or other routine headache treatments.
When TMJ is present, neuromuscular treatments are the most effective way to achieve lasting relief. Dr. Moore, along with his wife Dr. Amy Savarese, is prepared to customize a TMJ treatment option that addresses your exact needs and helps produce lasting relief from head and facial pain.
To schedule your TMJ treatment evaluation, please contact Moore Family Dentistry today. Located in Garner, Dr. Moore welcome patients from Cary and all surrounding areas of North Carolina.